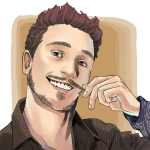 I'm known to be able to talk without any punctuation but this is ridiculously. As you can see, we have a problem with wordpress – I'm still trying to figure out what exactly is wrong and how to fix it. It seems that the bug But the timing for that problem couldn't be worse.
BECAUSE, this week is FMX week – and Shift! – Tales of the Sentinels is proud to be a part of it. If you are at the FMX2014 you are not only able to meet us there, but to see some artwork at an exhibition in the ground floor and listen to a presentation of both Sabrina and I.
Also we will be part of this years "Internationaler Comic Salon Erlangen" and the "Dragon Days 2014″ – but more about these two events, when I'm finish cleaning this bug-mess up.