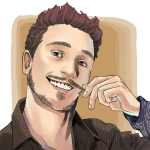 I'd like to believe that I'm something like an open and outgoing person. When something is important to me I have no problem to admit it.
I've got a few tattoos on (or under) my skin – and every single one means a lot to me. For me it was a logical step to immortalize Shift! on my skin. Tattoos are an expression, it's an artform. I can't understand how I couldn't do it: Shift! is my diploma and therefore some kind of goodbye of my studies here at the Filmakademie Baden-Württemberg. The core meaning behind Shift! that staying positive has a positive effect on ones life became a concept I adapted to myself. I have so much fun working on Shift! that I'd like everyone to share that fun. And I'd like to think that the fun and  drive which I've got for this project is inspiring  the rest of the team. Like the band H2O sings in their song "Heart on my sleeve":
"The places that I've been, forever written on my skin."
I always go to the same tattoo artist. As I've never made a bad experience with him, I'm happy with all of his work and everytime, the atmosphere is relaxed. Most of my friends have tattoos made by him. I won't mention his name in this blog post but you can ask me for the contact.
So that's it. I've been prepared, stayed sober the evenning before, and was in a good condition – although I got to say that the spine is a strange place (feelingwise). But I'm happy with it as I am with Shift!.