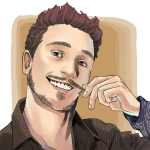 Let me introduce you all to one of my favourite characters in Shift! – his name is "Schakal". And this guy is a bit … unique.
I've already used this character for short stories and other projects before I've worked on Shift!. He was also a character of mine in a pen & paper roleplaying game. Seeing him finding his place in my diploma is therefore pretty exciting.
Schakal is some kind of a modern day shaman, an urban nomad and a spiritual
loner. When you look at him for the first time, you see nothing but a hairy and worn
down street bum. Scrubby beard, piercings and tattoos, torn down street clothes,
massive dreadlocks and a lot of tribal ornaments – all these things are hiding an
extremely intellectual and sophisticated person. He loves to quote poets, talking in
riddles and seriously, he is the biggest source for spiritual knowledge in Shift!. I
simply love the idea that there is more behind the surface. He is another element in
the whole project that screams out "discovering will be rewarded".
Schakal has a close look on our main character Adam. Both might develop a
mentor-student relationship. But the mysterious Schakal has a deep and dark secret
in his past, that might change everything …
The name "Schakal" is the German word for jackal. He already looks like a
wandering, battered scavenger. But to be totally honest – his name comes from the
song "theme for a jackal" by one of my all-time favourite bands the Misfits.
His outer appearance was influenced by many other personalities and characters:
the musicians Max Calavera (Sepultura, Soulfly) and Chris Barnes (Cannibal
Corpses, Six Feet Under) have been role models for him as well as the pro-wrestling
star Raven and the comic characters Gateway (X-Men) and LoBo (DC Comics).
I've spent a lot of time with this character in the back of my mind. Seeing him now
come to life, thanks to wonderful artists, authors and other persons makes this work
even more exciting.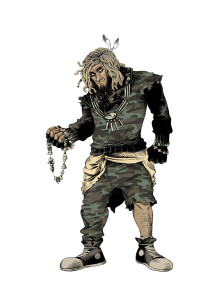 Check out the Schakal theme song in Jan´s article!