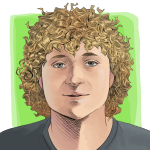 When I was asked to do the music and sound design for Shift I was super excited. I have always been interested in comics and graphic novels. I like the style of Don Rosa with his uncle scrooge drafts and stories and all the details he puts into his drawings. Graphic novels like Watchmen or The League of Extraordinary Gentlemen as well had a wide influence on my understanding of characters and storylines.
Currently I'm studying Musikdesign at the conservatory in Trossingen. From there I'm doing my internship at the Film Academy Baden-Württemberg in the Interactive Media department.
One of the greatest moments for me as a musician was the time when the first Gorillaz album came out in 2001. The music, combined with the fictional story world and the drafts of Jamie Hewlett blew me away. To this day the combination of comic style drawing and music is one of my favorite things.
Apart from my interest in music and comics, I always enjoy working with the newest media available. It pushes my creativity. I really like beautifully crafted games for iPhone or iPad like the ones from the Coding Monkeys Carcassone or Lost Cities. As they're bringing board games to the iOS world, one of the most interesting aspect for me in the project is the combination of the medium comic with another – the iPad.
Working with sound design I'm going to make use of the different interactive possibilities you have with the iPad, like shaking etc. For each interactions I'm planing to create a specific sound by doing some field recordings and foley recording. It's going to be really cool!
At the moment I'm working on a variety of different layouts which are all musical themes for the individual characters. For these compositions I have to deal with the whole story world, every single character like Schakal and the relationships between them.
Here is a screenshot from my Logic Pro session on which I am currently working.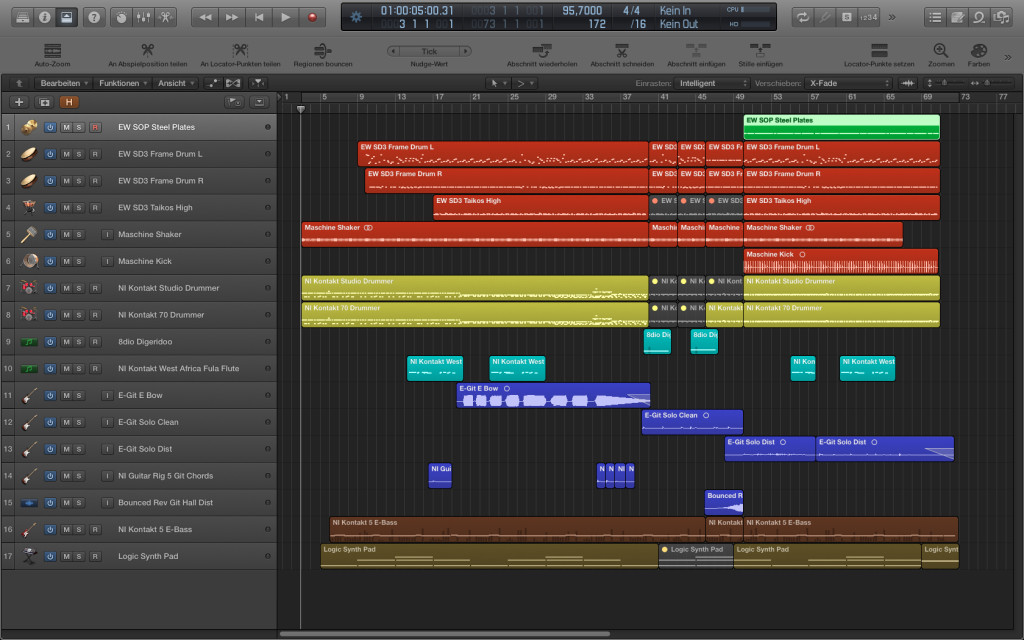 Check out the Schakal theme! Find out more about the character Schakal in Marsl´s article!
[soundcloud url="https://api.soundcloud.com/tracks/119586210" width="100%" height="166" iframe="true" /]